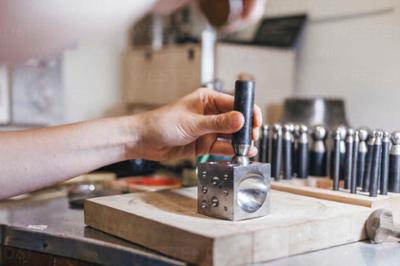 Advanced Metalsmithing
Instructor: Ilene Kay
Location: Sycamore Building, 7321 Tuition: 183.00
Continue your jewelry making journey as you take your metal smithing skills to the next level. The basic skills you've acquired are just the starting place. In this class you will refine your sawing, soldering and other skills as you see your design come to life. Students will create a one of a kind pendant with a bezel set stone. (Your stone can be oval or round, the minimum size is about the size of a quarter, but can be larger.). Add wire or metal overlay embellishments for a unique look.
Techniques covered include: Design and workflow for a custom project, Bezel setting a stone of your choice, Making twisted wire for decorative borders, Sweat soldering sheet metal overlays, More precision soldering skills, Fabricating a bail, and Advanced piercing skills
Course Code Date Time
CSP 4000 24925: 41126 11/15/23-12/13/23 Wed. 2pm-5pm
Registration Deadline: 8/14/23
How to Register by Email:

1. Download Creative Arts Registration Form (Form must be fully completed to be accepted)

2. Email completed form to tajohnson3@haywood.edu

3. If you are registering through email please await a Successful Confirmation Registration Email.
This service is only available to those that register by email.




How to Register in Person:
Please visit Student Services Department on the top floor of the Hemlock Building at
185 Freedlander Drive, Clyde, NC 28721.