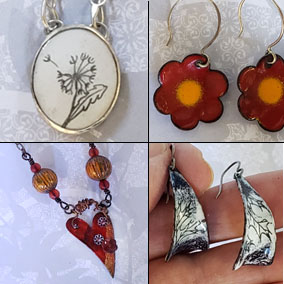 Enameling
Instructor: Ilene Kay
Location: Sycamore Building, 7321 Tuition: $343
Bright, jewel-like colors created by firing powdered glass onto metal have made enamel a favored choice for designers of jewelry. In this class you will learn the steps to prepare copper for enameling. A wide variety of techniques are covered, including sgraffito, stencils, rubber stamps and ink, frit, glass string, graphic on enamel and applying decals. Students will have the option of using precut shapes or cutting their own shapes. For those with metalsmithing skills options for setting your enamel jewels into your jewelry creations will be covered.
Course Code Date Time
CSP 4000 24923: 41124 8/23/23-9/27/23 Wed. 2pm-5pm
Registration Deadline: 8/14/23
How to Register by Email:

1. Download Creative Arts Registration Form (Form must be fully completed to be accepted)

2. Email completed form to alross@haywood.edu

3. If you are registering through email please await a Successful Confirmation Registration Email.
This service is only available to those that register by email.




How to Register in Person:
Please visit Student Services Department on the top floor of the Hemlock Building at
185 Freedlander Drive, Clyde, NC 28721.