Laying the Foundation: Intro to Vitreous Enamel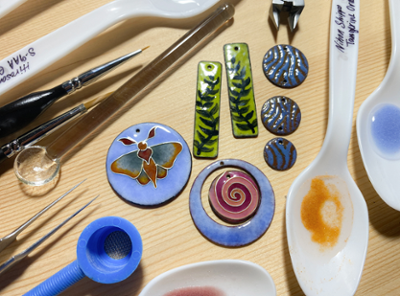 Laying the Foundation: Intro to Vitreous Enamel
Instructor: Tiffany Payne
Location: Sycamore Building, 7321 Tuition: 314.00
During this course students will explore various ways to create designs with transparent and opaque enamel on copper. You will learn techniques such as under painting, sgraffito, blending, and cloisonné. Whether you are an experienced metalsmith hoping to add something new to your work, or a newcomer to the medium –this course will be a fun overview of what enameling has to offer. Basic metalsmithing skills will be useful, but not necessary. Open to all skill levels. This is a techniques class; however, you will leave with complete pieces!
Course Code Date Time
CSP 4000 24907 8/21/23-10/2/23 Monday. 5pm-9pm
How to Register: Please contact Creative Arts Coordinator by email or call 828-565-4152 by 8/14/23 to be registered for class.
How to Register by Email:

1. Download Creative Arts Registration Form (Form must be fully completed to be accepted)

2. Email completed form to tajohnson3@haywood.edu

3. If you are registering through email please await a Successful Confirmation Registration Email.
This service is only available to those that register by email.




How to Register in Person:
Please visit Student Services Department on the top floor of the Hemlock Building at
185 Freedlander Drive, Clyde, NC 28721.