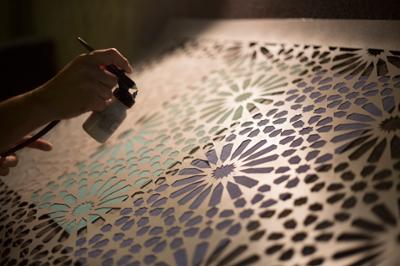 Paint, Stamp, & Stencil
Instructor: Lauren Medford
Location: Sycamore Bdg, RM 7306 Tuition: 97.00
Create a new piece each week! This course introduces the endless possibilities of designing and producing printed surface designs, patterns. Students will learn basic painting, printmaking techniques and processes such as free flow, stencil painting, and stamp-making. Upon completion, students will be able to produce painted and printed surface design utilizing various processes. Emphasis is placed on processes that do not require a printing press. No printmaking experience is required!
Students are responsible for materials and materials cost start at $89.00. Materials may be less or more and price is dependent upon students chosen vendor or brand name. Please view course home page on website for supplies list.
Course Code Date Time
CSP 4000 24823 4/20/23 - 5/11/23 Thursdays 3:30 – 6:00
Registration Deadline: 4/13/23
Course Code Date Time
CSP 4000 24824 6/1/23-6/29/23 Thursdays 3:30 – 6:00
Registration Deadline: 5/25/23
How to Register by Email:

1. Download Creative Arts Registration Form (Form must be fully completed to be accepted)

2. Email completed form to alross@haywood.edu

3. If you are registering through email please await a Successful Confirmation Registration Email.
This service is only available to those that register by email.




How to Register in Person:
Please visit Student Services Department on the top floor of the Hemlock Building at
185 Freedlander Drive, Clyde, NC 28721.