Hands-On Learning a Top Priority with Automotive and Collision/Repair Programs
Hands-On Learning a Top Priority with Automotive and Collision/Repair Programs
Haywood Community College has obtained numerous educational tools to help train students on the latest equipment to prepare them to enter the workforce upon graduation.
The Automotive program received a portable engine cut-away display that shows the intricacies of all engine parts. From the radiator to the shifters and cylinders, students can see how each piece interacts with others for a hands-on learning experience. Instructors can program the engine with a specific problem so students can troubleshoot and see how each part impacts the next to understand better how the engine works and how to fix each area. This machine is an integral part of the classroom experience as instructors can go from the textbook to the engine to practice what they just learned. This machinery is used in every class taught in the Automotive program, making it a cross-functional and important piece of the learning process.
The Automotive program also has tools to help diagnose and measure vehicle parts. With multimeter kits from Snap-on, students can use a precision measurement tool for hands-on learning in the classroom. This allows each student to simultaneously work on their coursework without waiting for available tools, saving time and offering a positive classroom experience. The Bluetooth diagnostic program provides the ability to simply plug a device into a vehicle, and the diagnostic machine indicates where trouble areas may be. This tool allows students to obtain information about problem areas for that particular vehicle and then narrow down how to fix the issue based on manufacturer recommendations and what they have learned in the classroom.
The Collision & Repair program area received a Sim Spray, a machine that allows users to paint car parts virtually. Using virtual reality technology, users can put on a virtual reality headset and use a handheld simulated spray gun to paint a vehicle part such as a door, bumper, and more. After choosing your vehicle part and color, the program detects key data such as speed, pressure, and overall technique. The scoreboard indicates areas for improvement and areas completed well, helping instructors better teach the correct technique. Students can also see a heat map of where layers might be too light or too heavy, and the machine will even show you where too much pressure was applied, leading to drips on the parts. This machine's portability allows it to go anywhere on campus or even off-campus for recruitment events.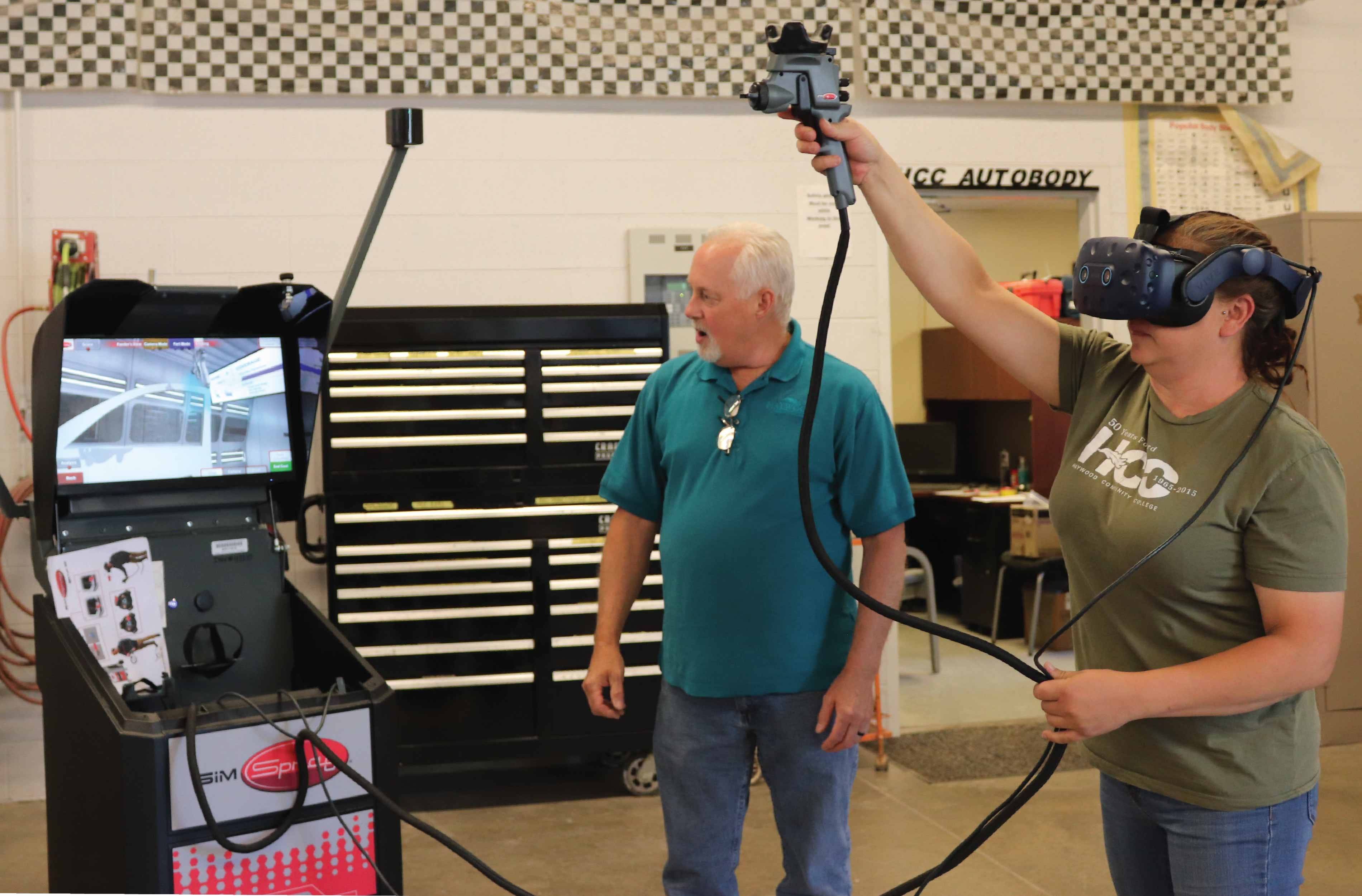 This machine offers hands-on learning, but it also provides other benefits. Without the need to use real paint or specific painting supplies, this equipment reduces the need for students to purchase supplies for painting and the paint itself. Not using actual paint saves approximately $100 per application and leads to a positive environmental impact since paint won't need to be used or wasted.
There are four classes in the Collision & Repair program that use this machine, including the estimating class as one of the features of the program shares what the cost of supplies would be if real paint and supplies would have been used.