HCC Medical Assisting Student Completes New Clinical Opportunity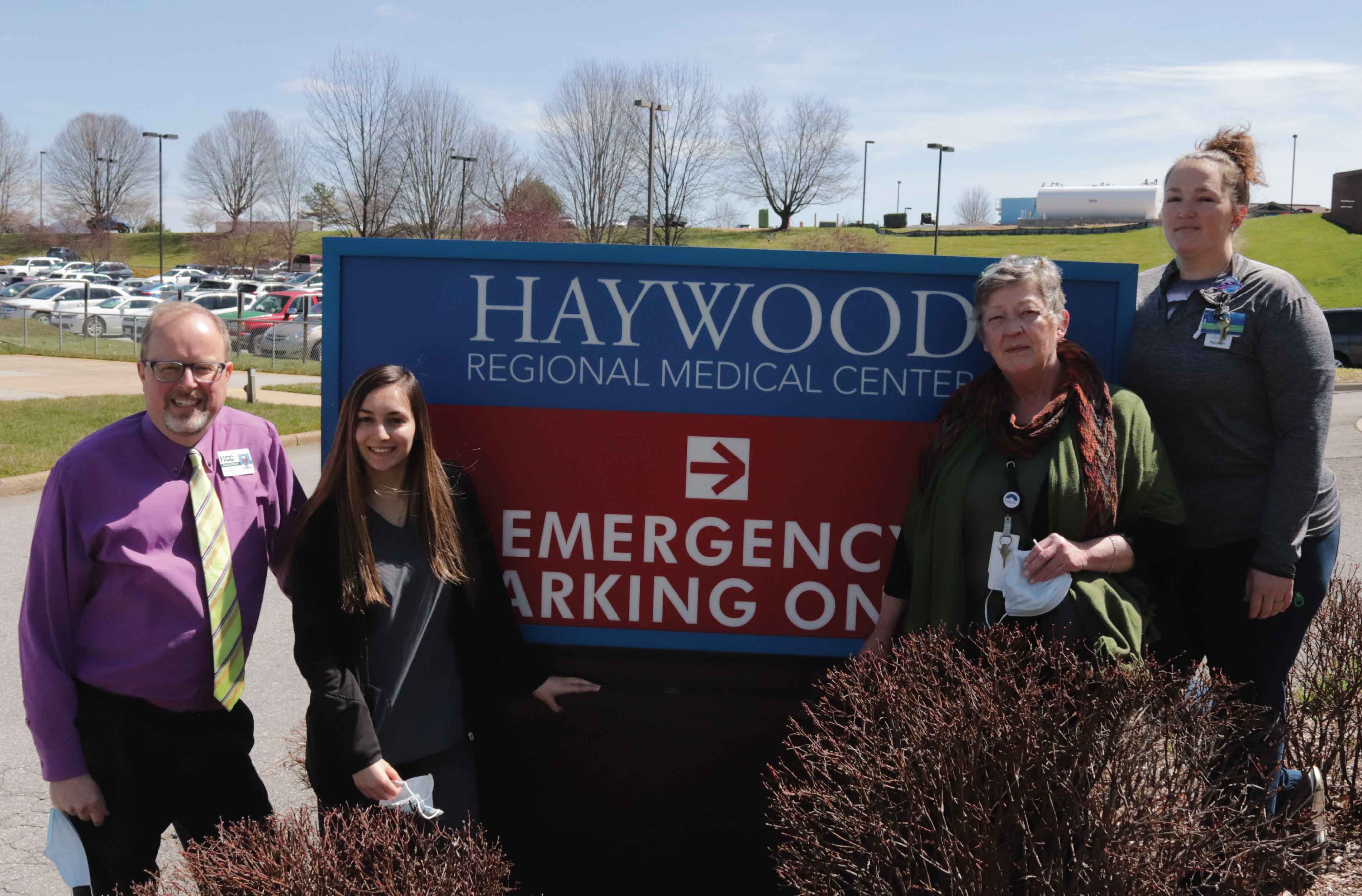 Photo by Shaneka Allen. The first Haywood Community College Medical Assisting student Iman Ullah, pictured second from left, is completing clinicals at Haywood Regional Medical Center. HCC Medical Assisting instructor Larry Davis worked with HRMC Chief Nursing Officer Susan Mahoney and HRMC Emergency Department Director Adrienne Hughes to make this opportunity a reality. Pictured with Ullah left to right are Davis, Mahoney and Hughes.Haywood Community College Medical Assisting student Iman Ullah is completing clinicals in Haywood Regional Medical Center's Emergency Department, giving a unique introduction to almost every facet of medical care.
"The Emergency Department never shuts its doors," explains Adrienne Hughes, HRMC Emergency Department Director. "In this setting, students will see interesting patients they may not encounter in a medical office setting. We see young and old. You always see something different. There's a lot of knowledge to be learned."
Medical assisting is an allied health profession whose practitioners function as members of the health care delivery team and perform administrative and clinical procedures. With their unique versatility, medical assistants are proving to be the allied health professional of choice for this decade and beyond. Medical assisting is one of the nation's careers growing much faster than average for all occupations, according to the U.S. Bureau of Labor Statistics.
Ullah was attending UNC-Pembroke before COVID hit. With a change of plans, she came to HCC and met with a career coach, which led her to the decision to take Medical Assisting. She is enjoying the variety she is exposed to at HRMC.
When asked what she has enjoyed most so far, Ullah can't decide. "I have seen a patient with symptoms of a heart attack and learning about IVs. I am getting hands-on experience every day."
As the first Medical Assisting student to complete clinicals at HRMC, HCC Medical Assisting instructor Larry Davis coordinated with both Hughes and HRMC Chief Nursing Officer Susan Mahoney to bring the opportunity to fruition after five years of planning.
"I have worked at the bedside with Iman," Mahoney says. "She is doing a terrific job. This is a great partnership with HCC."
It is in the works to have a medical assistant as part of the Emergency Department team at HRMC. Mahoney explained that this partnership could provide a wealth of opportunity with medical assistants working in many different tracks.
"After looking at the skills medical assistants can do, it is a real eye-opener," Hughes explains.
Summer and Fall semester registration at HCC is now open. For more information about medical assisting, registration or any other programs at HCC, visit haywood.edu or call 828-627-2821.
Haywood Community College (HCC) is part of the North Carolina Community College System and is accredited by the Southern Association of Colleges & Schools Commission on Colleges (SACSCOC). Founded in 1965, it is an open-door institution with the mission of serving the educational needs and economic growth of our community by promoting lifelong student learning and success. This includes programs for Haywood County high school students through Career and College Promise and Haywood Early College. The college campus, a designated arboretum, boasts one of the most beautiful college campuses in the state with an iconic mill pond, seasonal dahlia and rhododendron gardens, an 18-hole disc golf course and a walking trail.