Graduation Ceremonies complete at HCC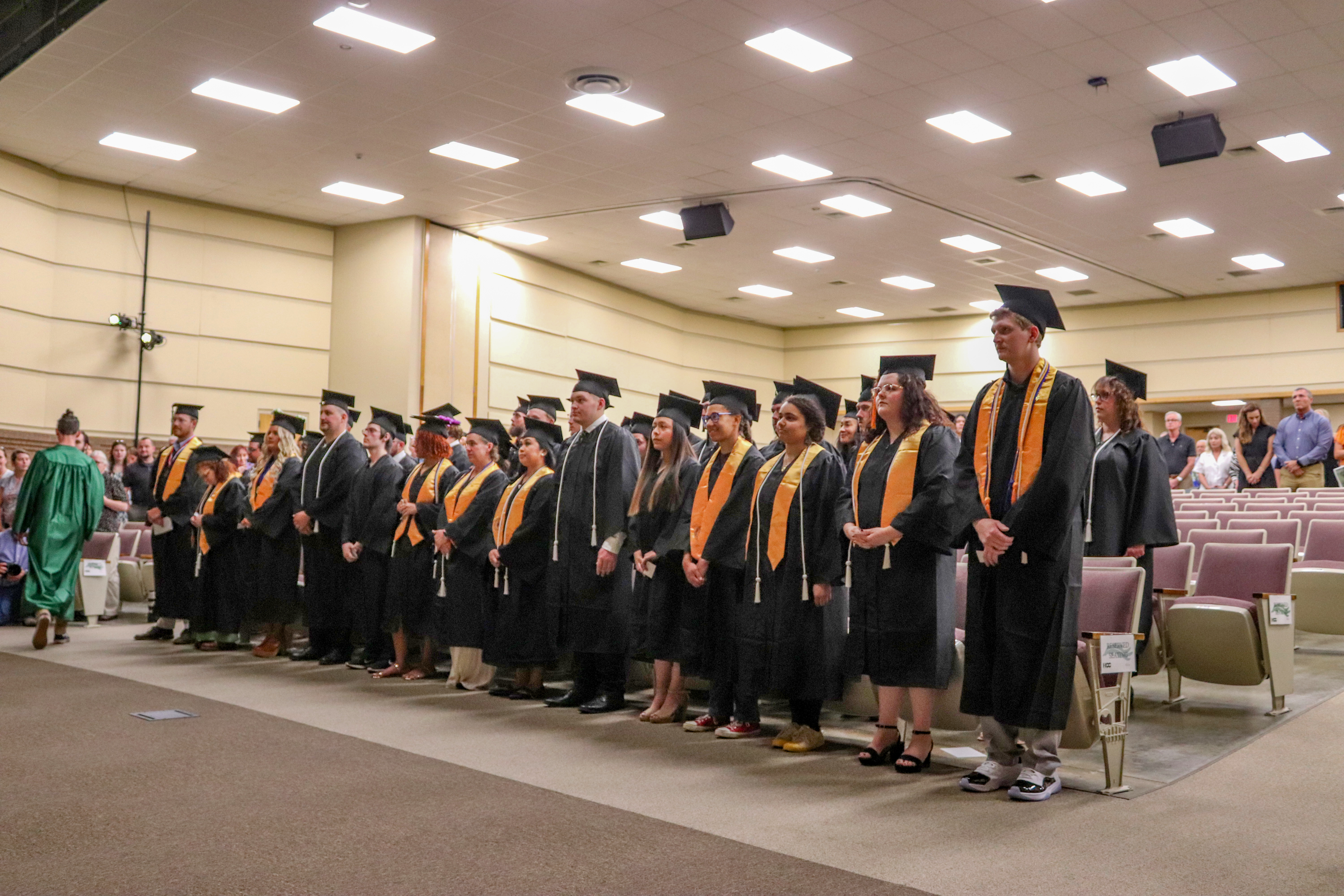 Haywood Community College recently welcomed families and friends to campus to celebrate the 2023 graduating class across five ceremonies. Each ceremony featured a speech prepared by a fellow student which provided peer-to-peer encouragement for their fellow graduates. Ivey McClure who obtained her Associate Degree in Nursing shared encouraging words with her graduating class and Harry Weisbecker and Teighlor Holland, Academic Excellence Award recipient and President's Award recipient respectively shared how their experience at HCC has impacted them and the futures they are looking forward to in their next career and educational steps.
Ceremonies included recognition of graduates in Arts, Sciences, and Natural Resources; Nursing; Health, Human, and Business Services, Professional Crafts; Industry; Career & College Readiness; and Haywood Early College. Over 500 credentials were conferred this academic year to 379 students including degrees, diplomas, and certificates. More than one credential can be obtained when students earn multiple degrees or certificates that specialize in a particular focus area of their degree.
"Many of our 2023 graduates started their journey at HCC during the height of the pandemic and have overcome significant challenges to reach their goals. This is only the beginning of new and exciting opportunities as many will continue their education or will join the workforce to start a career in their chosen profession," said Dr. Shelley White, President of HCC.
One of the ceremonies recognized over 50 graduates in HCC's College & Career Readiness Program. This program is designed for people over the age of 16 who want to finish a high school education, learn English, or build skills for entering college or the workplace. Students who complete HCC's CCR programs walk away with a plan and the confidence to take the next step and many enroll in HCC's curriculum programs upon completion in order to pursue a degree. HCC's College & Career Readiness Program offers day and evening in-person classes, as well as online study. For more information, please call 828-627-4700.
With over 30 curricular programs in 9 different career clusters, students at HCC can pursue a certificate, diploma or associate degree at a fraction of the cost of a four-year school. Students at HCC enjoy small classes and personalized attention, including the support of a Success Coach. HCC offers a variety of courses delivered in an array of methods to fit busy schedules. From in-person to fully online, the College has what students need to create a flexible schedule for those who are employed or may also be balancing a family, making it easy to get the credentials needed to move forward.
Financial aid options are widely available for all students and with a combination of funding sources, most students can attend HCC at little to no cost. Through the generosity of donors, HCC has a variety of scholarship opportunities and students graduating in 2023 from high schools in Haywood County can obtain funding through HCC's Tuition Free Guarantee. The most important step in determining financial aid is completing the Free Application for Federal Student Aid (FAFSA).