Nurses Pinned at Region A Nursing Consortium Ceremony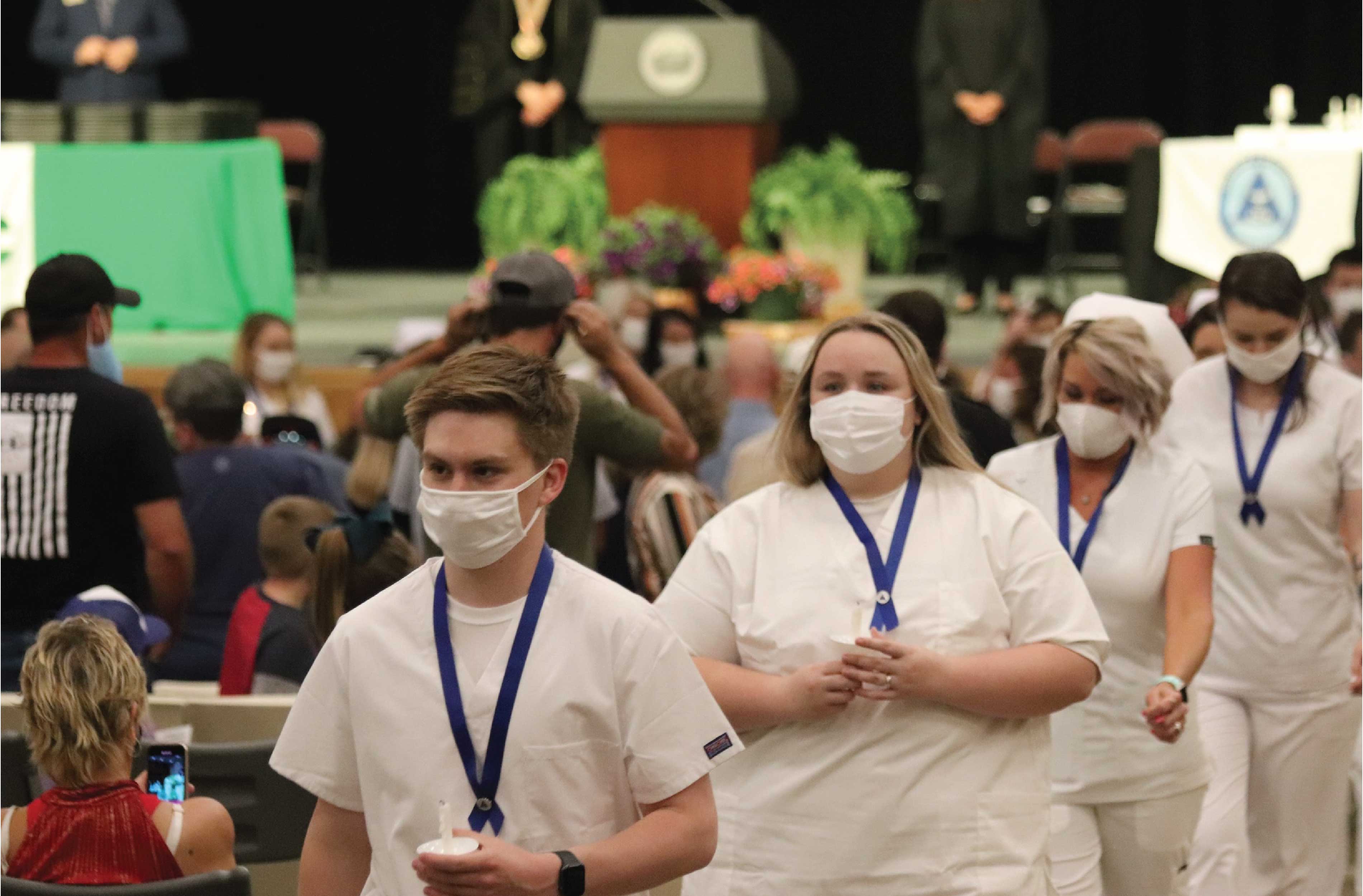 Photo by Samantha Nelson. Pictured are students at the 2021 Region A Nursing Consortium Pinning Ceremony. Schools in the Consortium are Haywood Community College and Tri-County Community College.
The 2021 Region A Nursing Consortium Pinning Ceremony was recently held on the campus of Haywood Community College. Schools in the Consortium are Haywood Community College and Tri-County Community College.
"The pinning ceremony is a significant rite of passage for students, connecting them to the college they attended," explains Dr. Lorene Putnam, Region A Nursing Consortium Program Director. "In addition, the candle lighting ceremony is symbolic and meaningful. It is the symbolic passing of the professional attributes and knowledge we value and have taught throughout the program that the graduates take out into their own professional practices."
HCC's class of 2021 nursing graduates include Madison Rose Brown, Katharine Cecilia Carmichael, Kayla Leigh Cothern, Zebulon Harrison Gentry, Geovanna Jane Lopez, Rebecca Ann Mathis, Carly Elizabeth McDaniel, Savannah Marie McKay, Suzanna Moen, Nicole Nelson, Chasydi Lynne Pressley, Brandon Shane Privett, Analeigh Marielle Pulver, Jessica Leigh Rathbone, Traci Roseanne Sanford, Honey Allyson Thomas, James Ray Trull, Edna Leanne Trull, and Erin Joy Warren.
Now more than ever, our community has seen the important, vital role healthcare workers play in our lives. To help support, HCC has joined with the Haywood Healthcare Foundation to embark on a new Health Sciences Education Building. This new 16,000 square foot building will expand, enhance and modernize the student experience while supplying critical healthcare professionals for the region. Funds from the NC Connect Bond will also be used to make the new building a reality. Many of HCC's nursing graduates have already been hired for employment opportunities in the community.
Doubling the space for nursing education, the Health Sciences Education Building will expand access to simulation and increase science lab capacity. Getting an education at HCC in the healthcare field will allow students to learn with the latest technology on the newest equipment.
Registration for fall semester is underway now. For more information about HCC's nursing program or for registration information, email hcc-advising@haywood.edu or call 828-627-2821.