Axe & Awl Leatherworks Offers Homage to the Past with a Modern Twist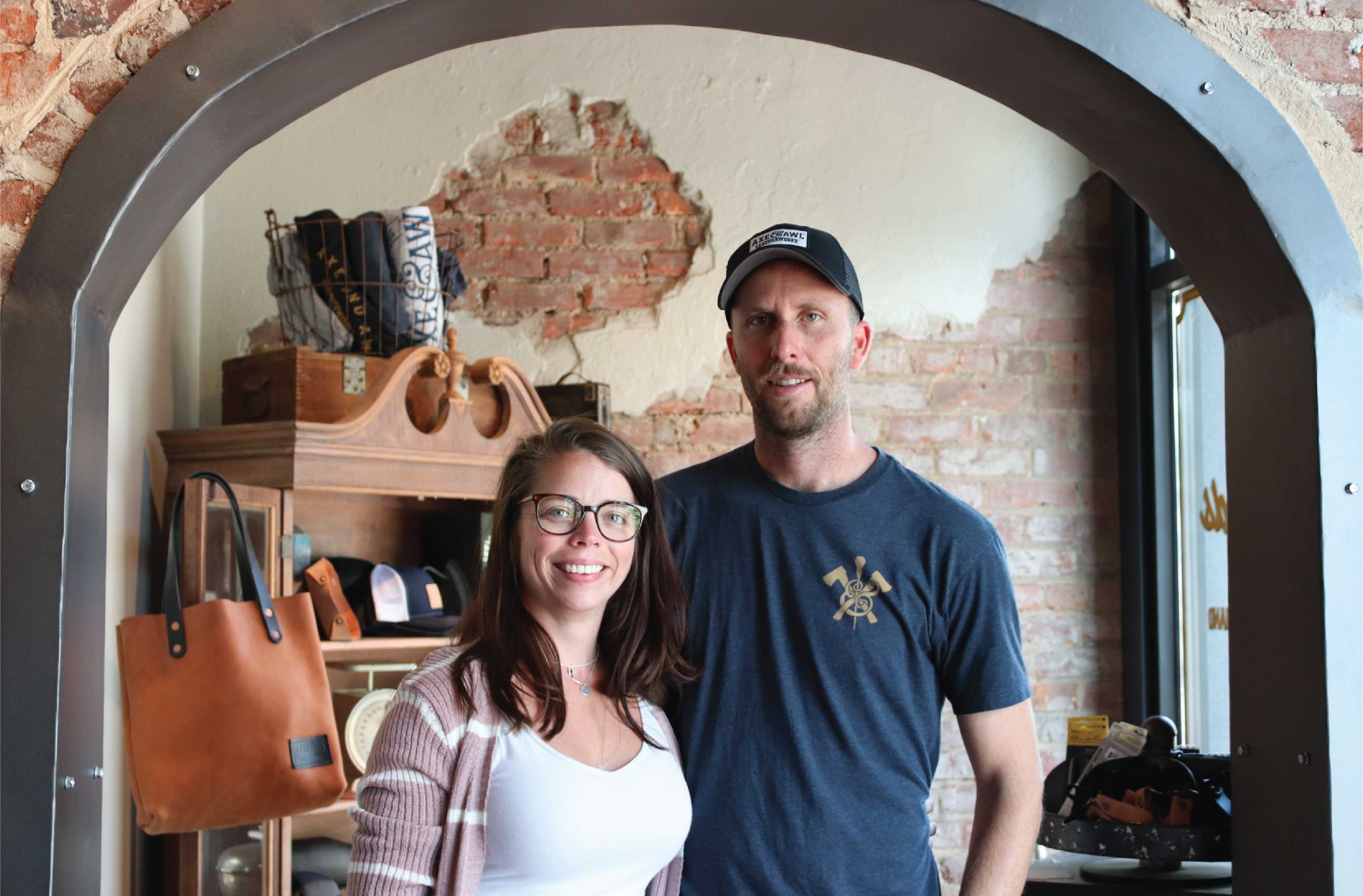 Courtney and Spencer Tetrault established Axe & Awl Leatherworks six years ago as an online business. Coming from two rewarding yet demanding careers, this required a leap of faith and a whole lot of grit. Now, they are taking another leap of faith to pursue a much-anticipated dream of opening a storefront on Depot Street in downtown Waynesville.
Inside their not-yet-opened shop, a continuous parade of faces peers into the window, cupping hands over their faces, pressed against the glass. It's this kind of support and encouragement that drives the Tetrault's toward opening day.
"Seeing members of the community, visitors to our beautiful town and fellow business owners encouraging and lifting us up with support has been an already remarkable experience," Spencer explains. "We want to make this a place where you want to walk down the street and check out what's here."
Inside the shop, it's hustle and bustle while the hands-on work continues. The hides come into the shop in huge rolls and are cut down to size. With a team of three, each handmade piece is stitched, hand-stamped, beveled and burnished with attention to detail, promising the end result is a durable, personalized product that's a homage to the past.
Spencer and Courtney are offering a modern twist on a traditional handicraft. They are transitioning their e-commerce business to include a brick-and-mortar establishment. There is skill in what they do. And they are also investing in our community, and through their journey, continue to build the entrepreneurial ecosystem that is characteristic of Haywood County.
The journey for these entrepreneurs began as a hobby on the kitchen island of their home. Spencer bought a box of tools and put them to use, making customized, durable products for firefighters such as belts, suspenders, and radio straps. Outgrowing the island, the hobby moved into the garage and then the basement. The product line also evolved into wallets, bags, keychains and more.
As their children grew older, they realized their careers took them away from their kids too much. The grueling shifts of being a firefighter for Spencer and a paramedic for Courtney weighed heavy on them.
"We made the challenging decision to leave those careers," Courtney says. "Turns out one of the hardest decisions was also one of the best decisions we have ever made."
While it takes a lot of dedication and man-hours to run a business, they can spend more time with family, where everyone helps out. Courtney's brother, Travis, makes up the third member of their team.
"Coming from professions that prioritize a family-first mindset with a group of like-minded individuals striving to reach a common goal has helped us lay the foundation for our personal business endeavors," explains Spencer. "Making workplace culture a priority makes for an environment that fosters creativity and positive development for all involved."
Through Axe & Awl, history for the town of Waynesville is repeating itself. Years ago, there was a tannery in town. Lots of families had a connection to the tannery. This is precisely what the Tetraults envision happening again.
Besides offering durable handmade leather goods, Axe & Awl plans to eventually offer classes where people in the community can learn to make their own items, such as a belt or wallet. "We want this to be something that families and friends can experience together."
Even though opening day is coming soon, the Tetraults have experienced what they call hills and valleys. Starting a storefront during a pandemic has had its share of obstacles. "Thankfully, we had the Small Business Center to help put us in contact with the resources we would have never known about," Courtney says. "When we have a question, it's the first place we reach out to.