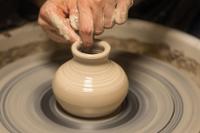 Hand Building Basics
Instructor: Christina Bendo
Location: Sycamore Bdg, RM 7221 Tuition: $180.00
Now a six-class series! During this six-week course we will cover the fundamentals of handbuilding with clay. No prior experience required! Each week we will complete a different project based on a new technique. Week one will cover pinch pots, including unique techniques for larger scale and sectioned serving dishes, in week two we will learn how the most ancient pots were made using coils, and weeks three and four will cover slab building using molds and templates. The last week students will learn how to combine their favorite techniques to create complex forms. During the course we will learn about the properties of clay and techniques for joining, refining, and surface patterning. In week six we will learn to glaze and fire the work so it is colorful and food safe. Cost includes one bag of clay, use of classroom glazes and kiln firing. Tools are provided, but you are welcome to bring your own.
| Dates | Day | Time | Cost | Section | Register By | Registration Link |
| --- | --- | --- | --- | --- | --- | --- |
| Jan 10 - Feb 21, 2024 | Wednesdays | 2pm-5pm | $180 | 41813 | 1/5/24 | Register |
| March 5 - April 16, 2024 | Tuesdays | 9am-Noon | $180 | 41815 | 2/29/24 | Register |
How to Register by Email:

1. Download Creative Arts Registration Form (Form must be fully completed to be accepted)

2. Email completed form to tajohnson3@haywood.edu

3. If you are registering through email please await a Successful Confirmation Registration Email.
This service is only available to those that register by email.




How to Register in Person:
Please visit Student Services Department on the top floor of the Hemlock Building at
185 Freedlander Drive, Clyde, NC 28721.