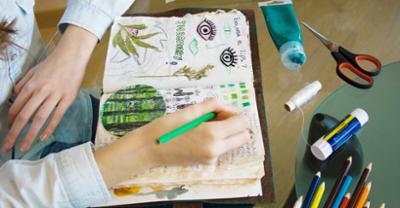 Instructor: Lauren Medford
Location: Sycamore Bdg, RM 7306
Art Journaling is beneficial to artists, hobbyists, or anyone, who wants to be creative. An art journal is a form of visual record keeping of thoughts, memories, and emotions. It can also be used to develop and play with various techniques and experimental mark making. Journaling can help generate new ideas and methods as well as serve as a creative outlet. In this course, students will develop their own art journal and together, we will explore mixed media techniques to establish an art journaling practice of experimentation and visual record-keeping. No artmaking experience is required!
Students are responsible for materials and materials cost start at $58.00. Materials may be less or more in price and is dependent upon students chosen vendor. Materials list is below.
Course Code Date Time
Please call 828-565-4152 7/6/23-7/27/23 Thursdays, 5:30PM-8:30PM
Tuition: 85.00
Registration Deadline: 6/16/23
How to Register: Please follow directions below.
Course Code Date Time
CSP-4000-24928: 41152 8/17/23 - 9/7/23 Thursdays, 1:30-4:00PM
Tuition: 105.00
Registration Deadline: 8/10/23
How to Register: Please follow directions below.
How to Register by Email:

1. Download Creative Arts Registration Form (Form must be fully completed to be accepted)

2. Email completed form to tajohnson3@haywood.edu

3. If you are registering through email please await a Successful Confirmation Registration Email.
This service is only available to those that register by email.




How to Register in Person:
Please visit Student Services Department on the top floor of the Hemlock Building at
185 Freedlander Drive, Clyde, NC 28721.
Cost: $75 Depending on where students source their materials
Recommended Brand: Ranger Brand, Dylusions Creative Journal 8x8 or larger. Other Brands will be accepted.
Watercolor Palette, add water to activate.
Brush set for watercolor and acrylic paints
Solid color washi tape. (Decorative Tape or white masking tape)
UHU Glue Stick
Recommended Brand: Ranger Brand, Archival Ink Pad, any color.
Speedball Speedy-Carve Block Printing & Rubber Stamp Making Kit, Standard Edition,

Any water-based art medium they would like to experiment with color pencils, paint makers, collage pieces, N/A

Recommended Brand: Copic Multiliner Pen - 0.5 mm Tip, Black