Beginning Weaving 101: Floor Loom
Beginning Weaving 101: Floor Loom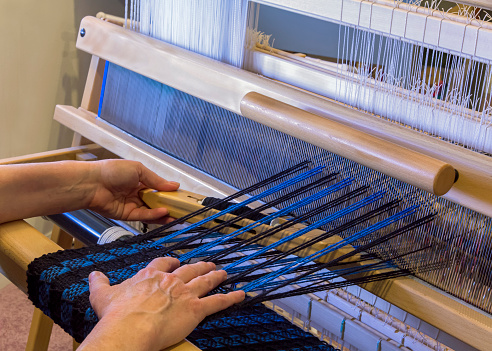 Instructor: Rachel Haas
Location: Sycamore, 7306
In this six week course we will learn every step of beginning weaving on a floor loom including designing a warp with multiple colors, dressing the loom back to front, and exploring weaving in both plain weave and twill structures. You will learn weaving terminology, how to calculate quantities of yarn needed for a project, how to plan warp dimensions, and gain an overview of finishing techniques. By the end of the class you will leave with "color and weave" cloth samples and either a set of dishtowels, placemats, or a scarf. You will have a solid foundation for weaving on your own after the class. Students will provide their own additional materials for this course as needed.
Students need to bring the following to class: Scissors, Tape measure, Pen/pencil, notepad, graph paper, Colored pencils (optional), Folder (optional), 6- or 12-inch ruler, Straight pins or T-pins, qty ~5, Tapestry or embroidery needle, Calculator, and a 1" wide smooth ribbon, one spool (optional)
Course Code Date Time
CSP 4000 24854 6/12 – 7/24 Monday 10AM-3PM
Course will not meet on 7/3/23 for Holiday: July 4th.
Tuition: $199.00
Registration Deadline: 6/5/23
Course Code Date Time
CSP-4000-24927: 41151 11/6/23 - 12/11/23 Monday 10AM-3PM
Registration Deadline: 10/30/23
*Class will not meet on 7/3/2023 to Observe July 4th Holiday*
How to Register by Email:

1. Download Creative Arts Registration Form (Form must be fully completed to be accepted)

2. Email completed form to tajohnson3@haywood.edu

3. If you are registering through email please await a Successful Confirmation Registration Email.
This service is only available to those that register by email.




How to Register in Person:
Please visit Student Services Department on the top floor of the Hemlock Building at
185 Freedlander Drive, Clyde, NC 28721.