Introduction to Metal Smithing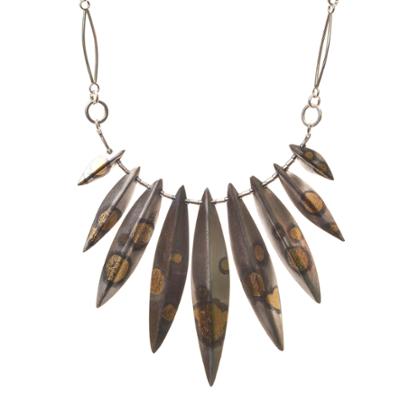 Introduction to Metal Smithing
Instructor: Amy Pike
Location: Sycamore Building, 7321 Tuition: $246.00
Carry on the tradition of metal smithing practiced throughout history. You will learn in a well-equipped metals studio on our beautiful campus. Through a series of projects, students will become familiar with the basic tools and techniques used to make jewelry from metal. We will learn to safely cut, shape, and texture metal, make connections through riveting and soldering, and apply finishing techniques such as polishing and patinas. The techniques learned in this class will be well-suited to those who'd like to have a small studio at home, and you will receive guidance about the essential tools needed to get started. With each project you will see a demonstration of the techniques we are learning and be given supplies to make your own design using those techniques. This class can be your first step to a life long practice in the art of metal smithing, or just a chance to try something new and make some of your own art from metal. Instructor: Amy Pike
Course Code Date Time
CSP 4000 24855 Start Date 1/17 Tues. 1:30pm-4:30pm
Please take note that class will continue on 2/21. We apologize for this inconvenience.
Registration Deadline: 1/10/23
Course Code Date Time
CSP 4000 24853: 40048 5/30 - 7/25 Tues. 1:30pm-4:30pm
No class on July, 4 2023
Registration Deadline: 5/30/23
How to Register by Email:

1. Download Creative Arts Registration Form (Form must be fully completed to be accepted)

2. Email completed form to alross@haywood.edu

3. If you are registering through email please await a Successful Confirmation Registration Email.
This service is only available to those that register by email.




How to Register in Person:
Please visit Student Services Department on the top floor of the Hemlock Building at
185 Freedlander Drive, Clyde, NC 28721.