Jewelers Open Studio-Level 2 Metalsmithing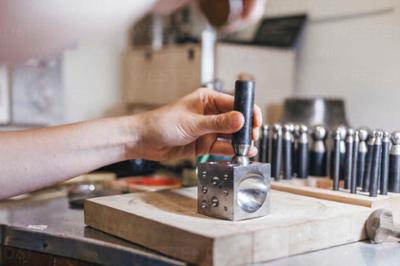 Jewelers Open Studio
Instructor: Ilene Kay
Location: Sycamore Building, 7321 Tuition: 168.00
Have you taken jewelry classes and just need a place to work with access to tools? Open studio is a great option as you will have access to our well equipped studio and you will have the guidance of Instructor Ilene Kay along with the camaraderie of other jewelry students. The studio is equipped with all the basic tools needed for metal smithing as well as a rolling mill, anvil, torches, soldering stations, and kiln.
Course Code Date Time
CSP 4000 24924: 41125 10/4/23-10/25/23 Wed. 2pm-5pm
Registration Deadline: 9/27/23
How to Register by Email:

1. Download Creative Arts Registration Form (Form must be fully completed to be accepted)

2. Email completed form to tajohnson3@haywood.edu

3. If you are registering through email please await a Successful Confirmation Registration Email.
This service is only available to those that register by email.




How to Register in Person:
Please visit Student Services Department on the top floor of the Hemlock Building at
185 Freedlander Drive, Clyde, NC 28721.