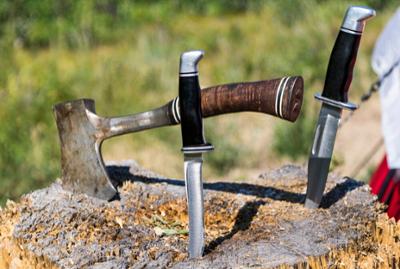 Open Project
Instructor: Bill Weinert
Location: Walnut Building, 3327 Tuition: $383.00
Throughout this course, students will have open lab time to design and craft the project of their choice, under the guidance of our instructor. This course will place an emphasis on making the craft of blacksmithing an enjoyable and attainable hobby for anyone.
Students must bring their own Eye Protection, hearing protection, leather apron, heat resistant gloves, and respirator. Please wear natural fiber clothing. Instructor: Bill Weinert
Course Code Date Time
CSP 4000 24810 6/20 – 8/1 T/TH 5pm – 8pm
Registration Deadline: 6/13/23
How to Register by Email:

1. Download Creative Arts Registration Form (Form must be fully completed to be accepted)

2. Email completed form to alross@haywood.edu

3. If you are registering through email please await a Successful Confirmation Registration Email.
This service is only available to those that register by email.




How to Register in Person:
Please visit Student Services Department on the top floor of the Hemlock Building at
185 Freedlander Drive, Clyde, NC 28721.