HCC Student Awarded Joan Michaels Scholarship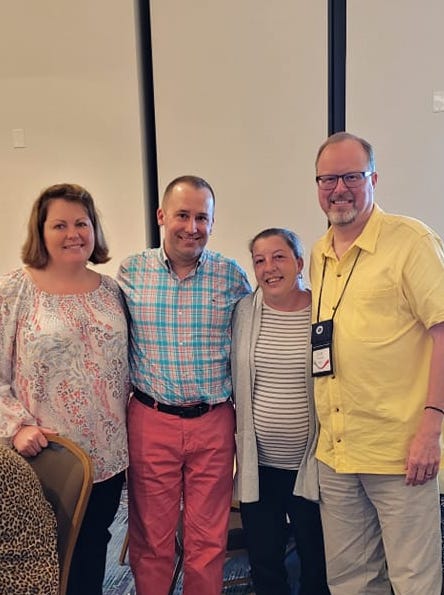 At a recent convention for the North Carolina Society of Medical Assistants, Haywood Community College Medical Assisting student Jessica Burgess was named as recipient of the Joan Michaels Scholarship.
Burgess graduated from HCC in 2020 with an associate's degree in Medical Office Administration. She will finish the Medical Assisting program this May. On campus, she serves as the vice president of the Student Association of Medical Assistants.
"I was the first person in my family to attend college and obtain a degree," Burgess explains. "I want to instill to my kids that anything is possible with hard work and dedication. Growing up, I watched my mom struggle working multiple jobs. I don't want just a job; I want a career."
Currently, Burgess is completing clinicals at Blue Ridge Health where she is able to put some of the knowledge and skills she has learned into practice while also learning more.
Medical assisting is an allied health profession whose practitioners function as members of the health care delivery team and perform administrative and clinical procedures. With their unique versatility, medical assistants are proving to be the allied health professional of choice for this decade and beyond. Medical assisting is one of the nation's careers growing much faster than average for all occupations, according to the U.S. Bureau of Labor Statistics.
Donated photo. Pictured left to right are Summer O'Neal, CMA (AAMA) NCSMA President; Cameron Smith, CMA(AAMA) Haywood County Chapter Immediate Past President; Jessica Burgess; Larry Davis, CMA (AAMA) program director of the Medical Assisting Program at HCC.
Haywood Community College (HCC) is part of the North Carolina Community College System and is accredited by the Southern Association of Colleges & Schools Commission on Colleges (SACSCOC). Founded in 1965, it is an open-door institution with the mission of serving the educational needs and economic growth of our community by promoting lifelong student learning and success. This includes programs for Haywood County high school students through Career and College Promise and Haywood Early College. The college campus, a designated arboretum, boasts one of the most beautiful college campuses in the state with an iconic mill pond, seasonal dahlia and rhododendron gardens, an 18-hole disc golf course and a walking trail.