Medical Assisting
The medical assisting field offers the perfect career path for those looking to enter the medical field. Using your newly learned skills, you will be an essential employee at a medical practice and an integral member of the healthcare and administrative team. Graduates of CAAHEP-accredited medical assisting programs may be eligible to sit for the American Association of Medical Assistants' Certification Examination to become Certified Medical Assistant.

The Haywood Community College Medical Assisting program is accredited by the Commission on Accreditation of Allied Health Education Programs (CAAHEP) upon the recommendation of Medical Assisting Education Review Board (MAERB).
The Medical Assisting Program prepares competent entry-level medical assistants in the cognitive (knowledge), psychomotor (skills), and affective (behavior) learning domains.
Commission on Accreditation of Allied Health Education Programs
25400 US Highway 19 N, Suite 158
Clearwater, FL 33763
(727) 210-2350 phone (727) 210-2354 fax
The criteria for admission to the medical assisting program include:
A completed medical form including all required immunizations prior to enrolling in MED 140, MED-150 and MED-260;
An annual TB skin test;
Malpractice insurance prior to taking MED-150 and MED-260; and
A satisfactory urine drug screen and criminal background check required prior to MED-260.
MED-260 MED Clinical Practicum is designed to be a capstone course for the medical assisting professional and must be taken in the final semester of a student's sophomore year.
Note:  All MED and OST prefix courses in the Medical Assisting program required a grade of "C" or better.
Highlights of the Program
Scheduling appointments
Coding
Billing
Processing insurance accounts
Collections
Computer operations
Obtaining Medical Histories
Assisting with examinations/treatments

Electrocardiography
Office procedures
Vital signs

Laboratory procedures

Venipuncture
Capillary stick
Lab testing

Medication administration

Oral
Injections/Immunizations

Ethical/legal issues related to patient care
Degrees/Certificates
Associate in Applied Science – Medical Assisting
Certificate - Medical Office Administration
Potential Careers
Jobs
Medical Assistant
Laboratory Assistant
Occupational Health Nurse
Coding and Billing Specialist
Program Highlight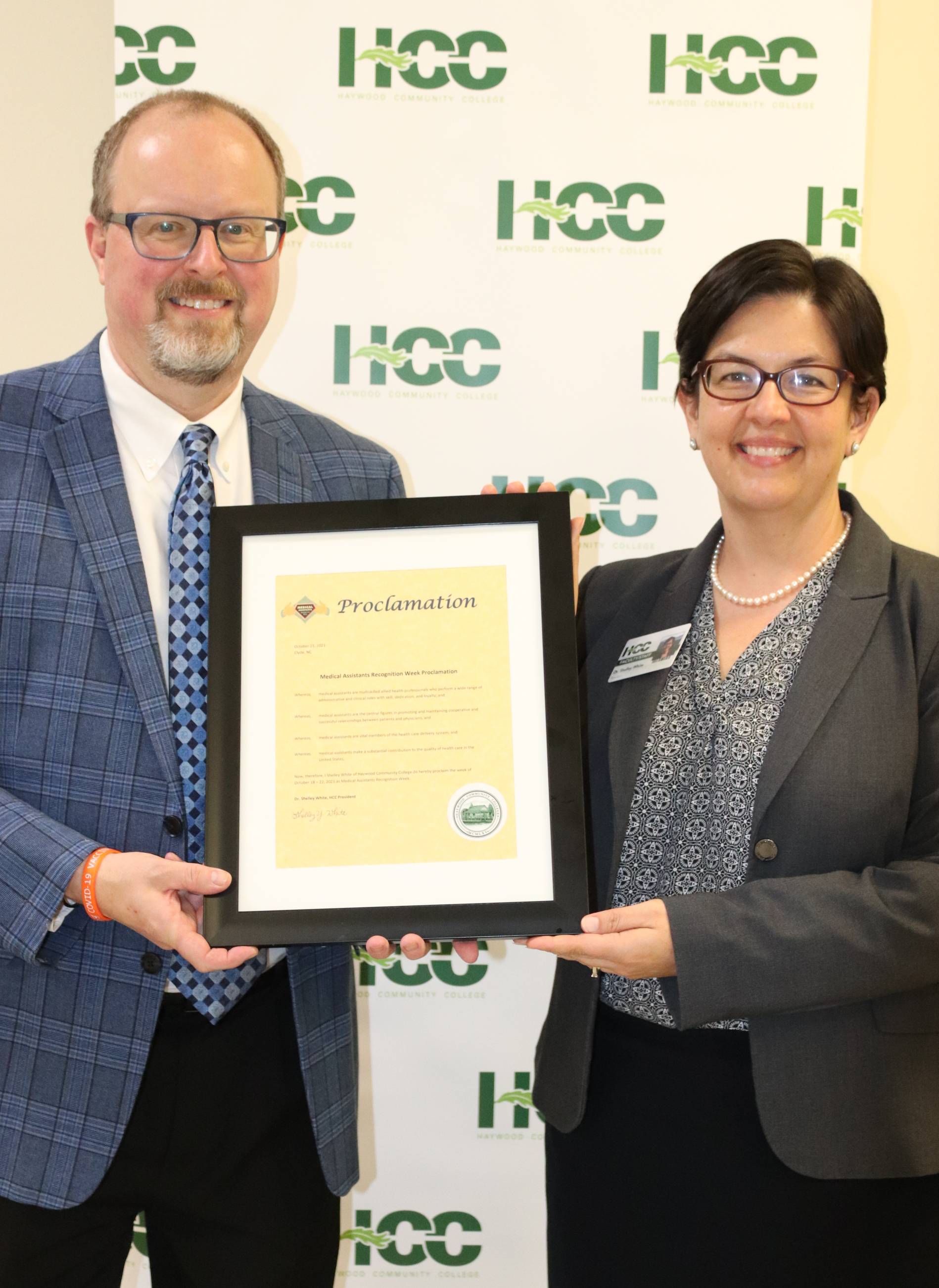 In 2021, Haywood Community College's Medical Assisting program reached a major milestone, reaching the 50 year mark of offering the Medical Assisting program to our community in Haywood County. Celebrated by recognizing alumni, current students, and our partners, we are so pleased to know that our students have been supporting our community for over 50 years. Pictured here: Dr. Shelley White with Larry Davis showcasing the Medical Assisting Day proclamation.
Class Schedules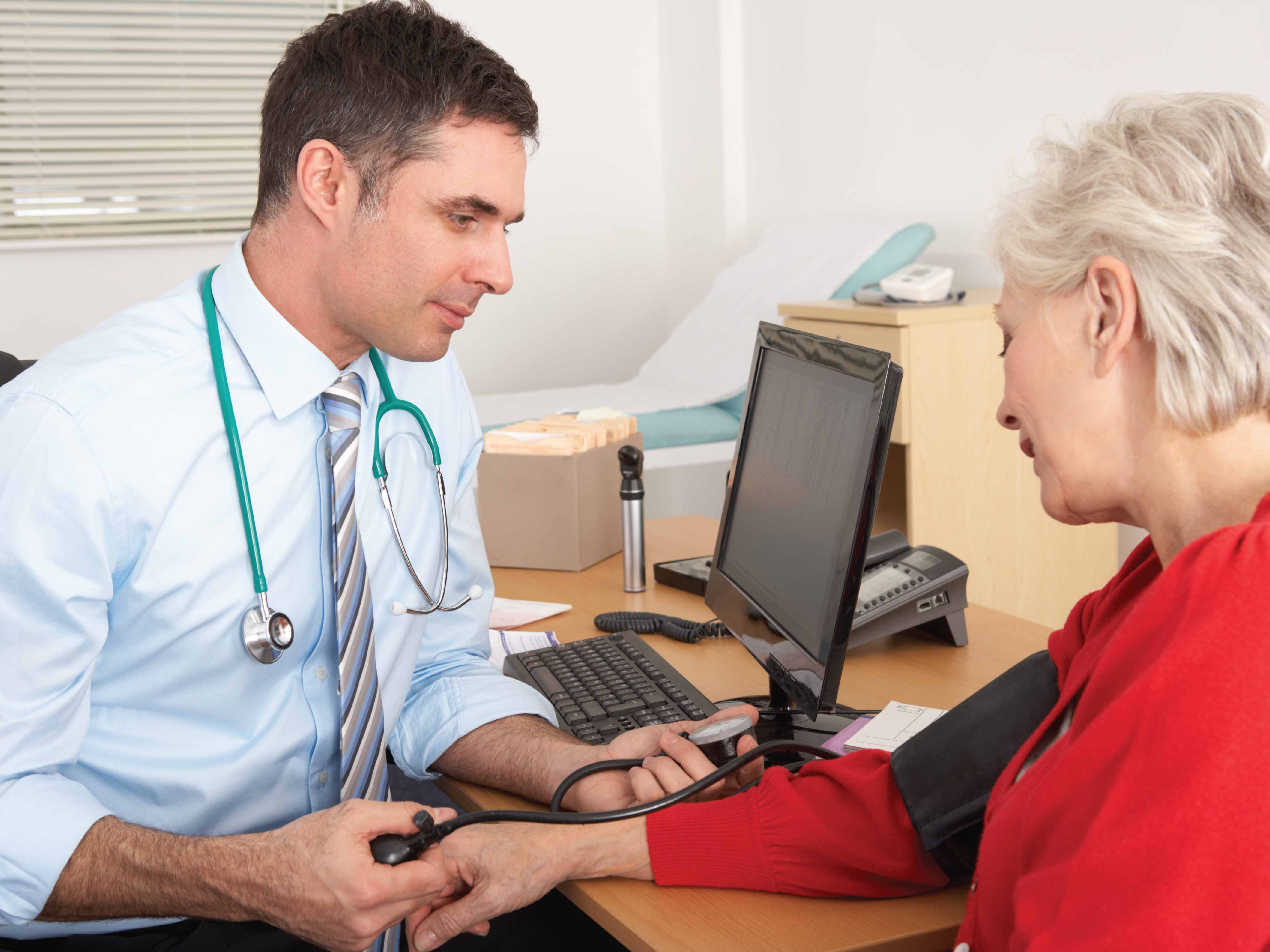 HCC offers a variety of class times to fit your busy schedule. Different class options are available based on your graduation year. You can view available classes and then meet with your advisor to get registered.
Technical Standards Program Schedule Search for Courses
For more information contact: