Haywood Community College uses several video platforms for meetings, recordings, viewing.
Accessing VidGrid using your HCC credentials
VidGrid is Haywood Community College's instructional video platform. It is similar to YouTube in how it functions. As a student, you have viewer-only access unless an instructor creates a video link for you to record a video as an assignment. Some classes will require a VidGrid account to view class videos. It is easy – and free – to generate your VidGrid account through Haywood. For optimal viewing, updated versions of Mozilla Firefox or Google Chrome are recommended.
Using the Single Sign-on (SSO) link is the easiest way to generate your account. Sign in using your HCC login credentials, which is also your Microsoft account.
If you encounter difficulties using the "sso" link above, try https://app.vidgrid.com and use the ENTERPRISE LOGIN button to create the connection with your Haywood account.
Use HCC email and password
Use your HCC email address and continue with log in.
Connection Interruption
If, when attempting to watch a video in a course, you see a message that your session has expired or you are not connected, select Log in in the video player window and scroll down in that window to Enterprise login. This should reconnect your account so you can proceed with watching the video.

Cross-site Tracking on Safari browser (mac, iPad, iPhone)
In some cases, downloading or utilizing Firefox or Chrome browsers may not be an option.
When using an iPad or iPhone, you do not have the option to use a different browser. Even if you download a different browser app, the set of functions allowing mobile devices to pull webpages uses Safari. In order to view the course's VidGrid videos on an iPad or iPhone, adjusting Safari's Privacy settings is required. Toggle off (from green to gray) Prevent Cross-Site Tracking. Once this is done, revisit the video and follow the VidGrid video login prompts. A view of iPad/iPhone settings is below.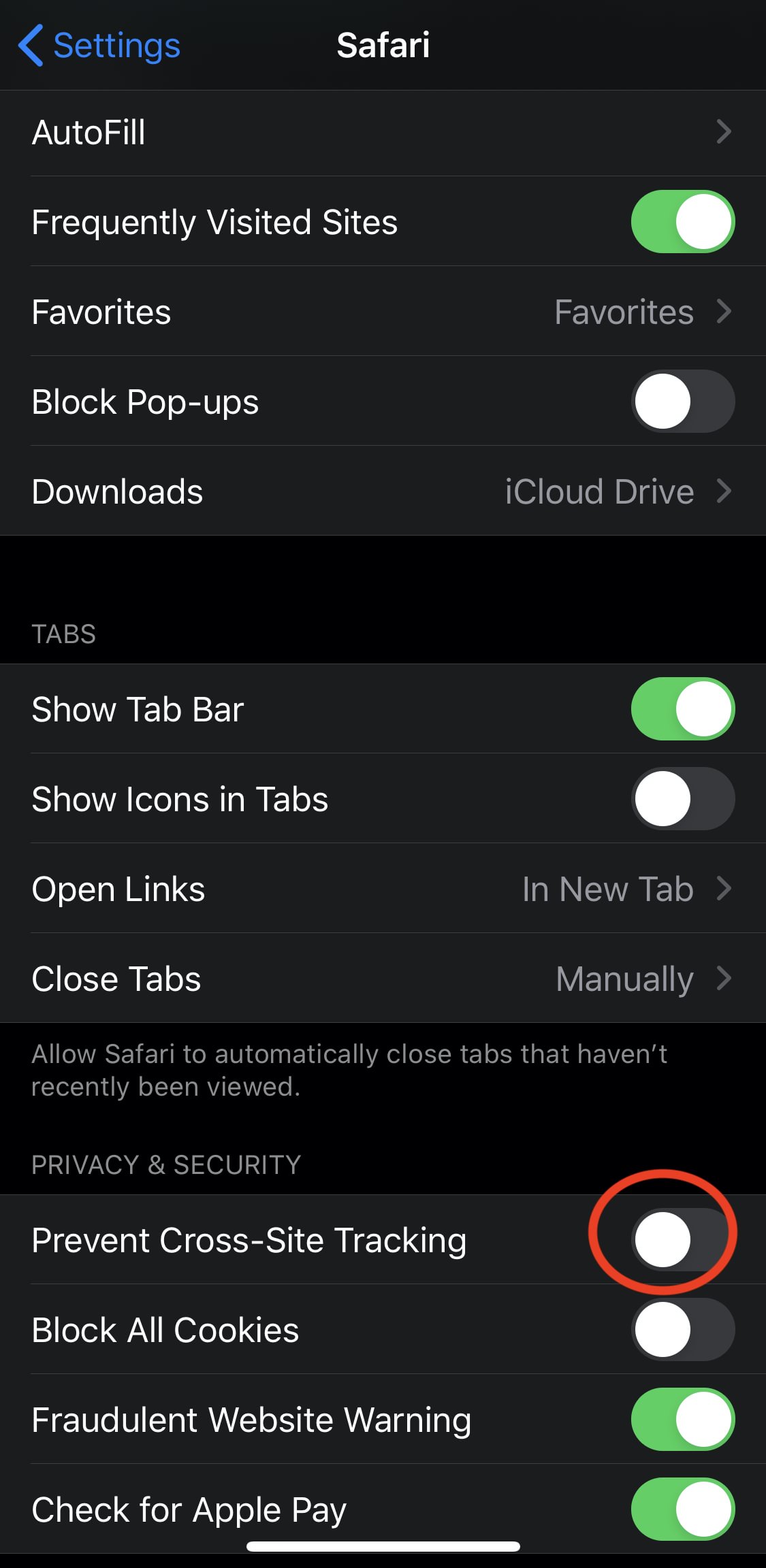 To view VidGrid videos on apple's Safari browser on a mac desktop computer or macbook, navigate to Safari's Privacy settings and uncheck the box to "Prevent cross-site tracking". Once this is done, revisit the video and follow the VidGrid video login prompts. We recommend use of the Firefox or Chrome browsers rather than Safari, when possible.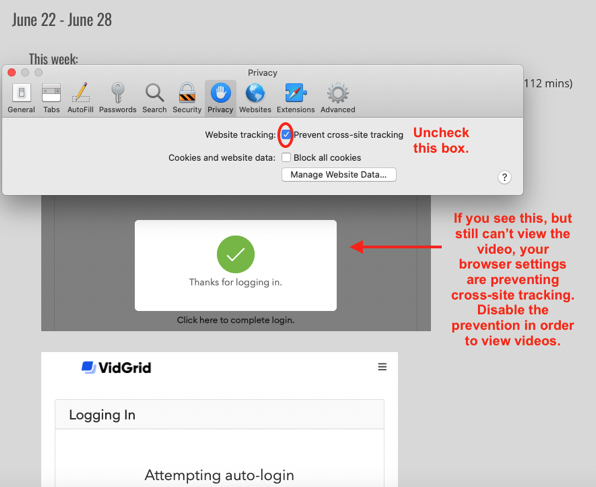 Technical support
We recommend using Google Chrome or Mozilla Firefox for this web application, when possible.
Download the instructions on preventing cross-tracking in the Safari web browser: /files/distance-learning/vidgrid-safari.pdf
If you need assistance with VidGrid account access, contact the Moodle Help Desk at 828.627.4619 or moodlehelp@haywood.edu.
Online Etiquette
Learning in online communities can be rich, educational experiences when students commit to regular participation and positive, healthy and respectful interactions.
Our video library offers some tips, tricks, and recommendations to ensure a positive online learning environment.
The Do's and Don't's of Online Communication
A Word from one of our Deans
Advice from an Online Instructor
Advice from an Online Instructor