Haywood Community College currently works with two primary video services for recording, viewing, and meetings.
Sign In and configure your account through the Zoom link found in the HCC Login Portal.
Download the Zoom Desktop client from the Resources Tab of the Zoom Web Portal.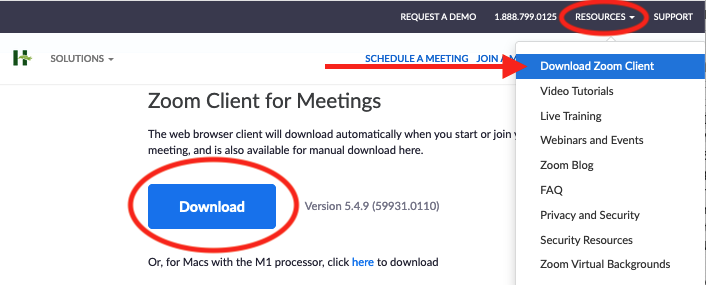 Always sign in to Zoom using SSO (single sign-on)
Signing in with SSO (single sign-on) establishes the connection between the desktop client or mobile app with your HCC Zoom web account in the cloud. You can join a meeting directly from the desktop client or mobile app if you know the Meeting ID which is the last part of a Zoom meeting link.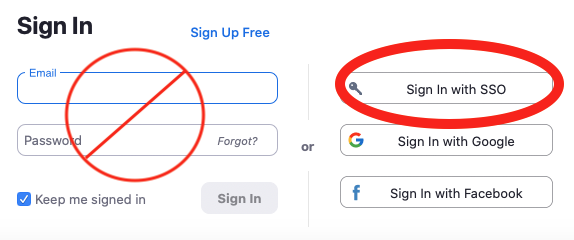 Company domain and company email
Because HCC's Zoom license is an Enterprise account, you will prompted for 'your company domain' and 'your company email'. Enter haywood for the company domain and yourusername@haywood.edu as the company login. If already logged in to your Haywood accounts with SSO, you might get only one or none of these prompts.

Frequent Updates
Zoom pushes updates out almost weekly. Frequently Check for Updates on the Desktop Client to be sure you are using the latest version of the meeting tool. If you are having issues with connectivity or functionality of Zoom, always start with an update.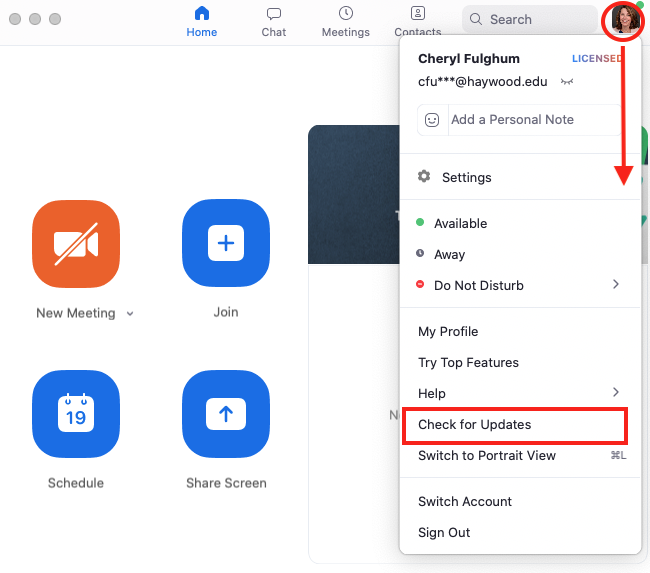 Download the Zoom app for mobile devices for attending meetings on-the-go
Zoom mobile apps are available for Apple iOs and Android. Always sign in with SSO on mobile devices to connect the app with your Haywood account. For more information on mobile devices, view the Support Documents at the bottom of this page.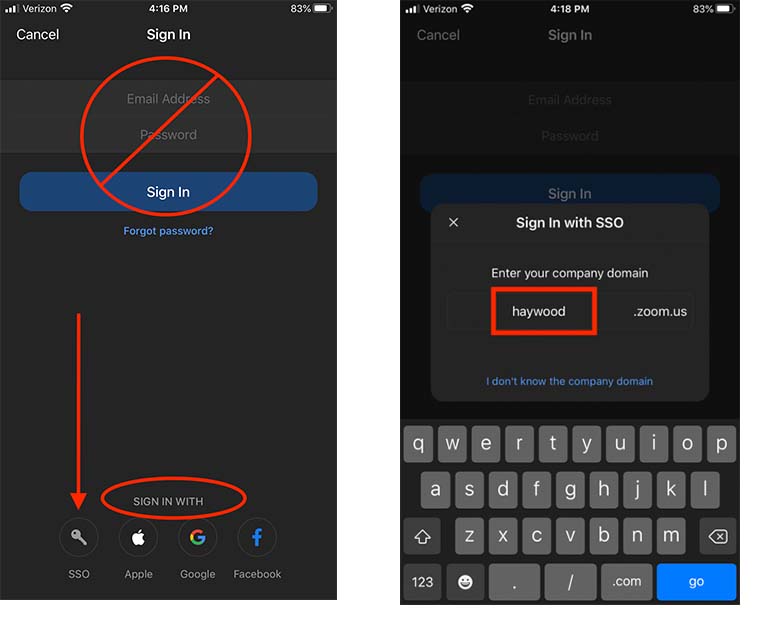 Joining a Zoom meeting
When you click on a Zoom meeting link, you will see a Launch Meeting option. Choose Launch Meeting and either you will be able to launch it or you will be notified the meeting is scheduled for a different day and time. If that is the case, you will have to wait to launch the meeting.

Once you are able to Launch the Meeting, you will then be able to Open Link by choosing the appropriate (Zoom) application. By checking the Remember my choice for zoommtg links box, you can bypass this step on your current device in the future.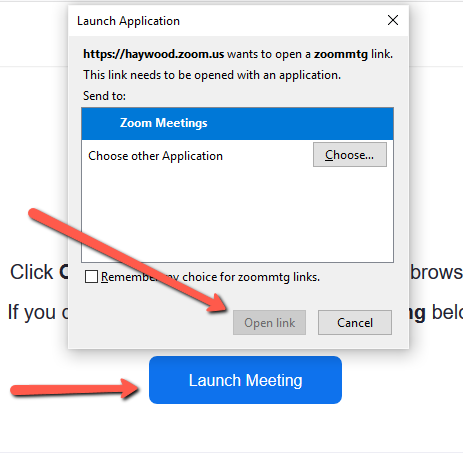 Next, you will see a prompt to Join with Computer Audio. Once in the meeting, you can choose a specific audio tool such as built-in audio, headset, external microphone, etc., but start with Join with Computer Audio. You can Test Speaker and Microphone here or after you've joined the meeting. By checking the Automatically join audio by computer when joining a meeting box, you can bypass this step on your current device in the future. If you receive a Please wait… message, be patient. This means the host of the meeting will admit you into the Zoom session in a few minutes.
When to Configure your HCC Zoom account
It is recommended you Sign In to configure your account well ahead of your first scheduled Zoom meeting in case technical support is needed.
Zoom Netiquette (a.k.a. online manners):
System Requirements
System requirements for using the Zoom desktop client on Windows, macOS, & Linux devices: https://support.zoom.us/hc/en-us/articles/201362023-System-requirements-for-Windows-macOS-and-Linux#h_66cb65e7-a02d-47d5-a067-a85f3d184c6b
System requirements for using the Zoom mobile app on iOS, iPadOS, and Android devices: https://support.zoom.us/hc/en-us/articles/201179966-System-requirements-for-iOS-iPadOS-and-Android
Support Documents
Download Using Zoom on an iPad
Getting started with Zoom on Android
Considerations when using the Zoom mobile app
Need Technical Support?
Haywood's WebSupport (IT): websupport@haywood.edu | (828) 565-4009
Haywood's Moodle Help Desk: moodlehelp@haywood.edu | (828) 627-4619
Accessing VidGrid using your HCC credentials
VidGrid is Haywood Community College's instructional video platform. It is similar to YouTube in how it functions. As a student, you have viewer-only access unless an instructor creates a video link for you to record a video as an assignment. Some classes will require a VidGrid account to view class videos. It is easy – and free – to generate your VidGrid account through Haywood. For optimal viewing, updated versions of Mozilla Firefox or Google Chrome are recommended.
Using the Single Sign-on (SSO) link is the easiest way to generate your account. Sign in using your HCC login credentials, which is also your Microsoft account.
If you encounter difficulties using the "sso" link above, try https://app.vidgrid.com and use the ENTERPRISE LOGIN button to create the connection with your Haywood account.
Use HCC email and password
Use your HCC email address and continue with log in.
Connection Interruption
If, when attempting to watch a video in a course, you see a message that your session has expired or you are not connected, select Log in in the video player window and scroll down in that window to Enterprise login. This should reconnect your account so you can proceed with watching the video.

Cross-site Tracking on Safari browser (mac, iPad, iPhone)
In some cases, downloading or utilizing Firefox or Chrome browsers may not be an option.
When using an iPad or iPhone, you do not have the option to use a different browser. Even if you download a different browser app, the set of functions allowing mobile devices to pull webpages uses Safari. In order to view the course's VidGrid videos on an iPad or iPhone, adjusting Safari's Privacy settings is required. Toggle off (from green to gray) Prevent Cross-Site Tracking. Once this is done, revisit the video and follow the VidGrid video login prompts. A view of iPad/iPhone settings is below.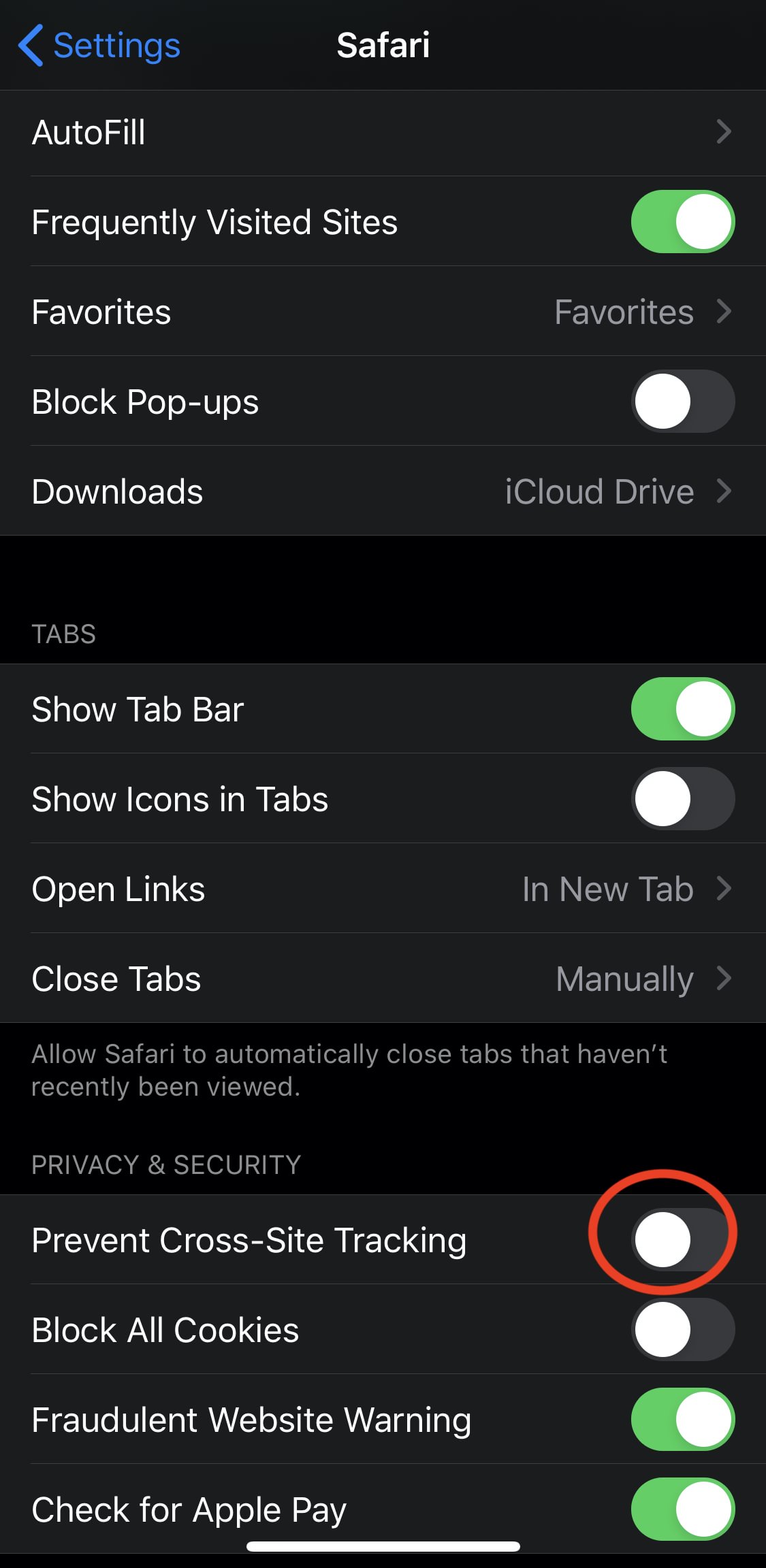 To view VidGrid videos on apple's Safari browser on a mac desktop computer or macbook, navigate to Safari's Privacy settings and uncheck the box to "Prevent cross-site tracking". Once this is done, revisit the video and follow the VidGrid video login prompts. We recommend use of the Firefox or Chrome browsers rather than Safari, when possible.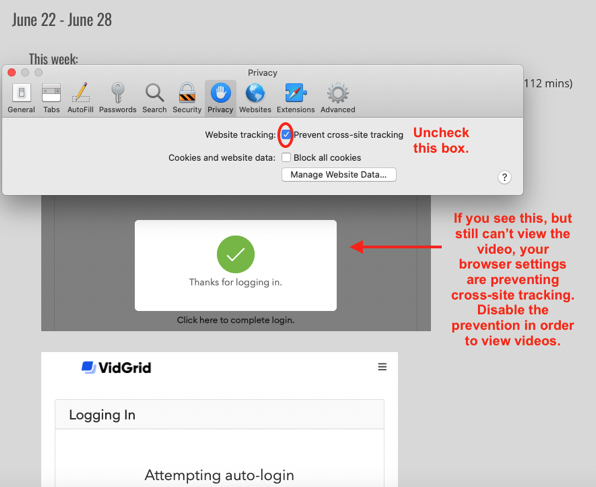 Technical support
We recommend using Google Chrome or Mozilla Firefox for this web application, when possible.
Download the instructions on preventing cross-tracking in the Safari web brower: /files/distance-learning/vidgrid-safari.pdf
If you need assistance with VidGrid account access, contact the Moodle Help Desk at 828.627.4619 or moodlehelp@haywood.edu.
Online Etiquette
Learning in online communities can be rich, educational experiences when students commit to regular participation and positive, healthy and respectful interactions.
Our video library offers some tips, tricks, and recommendations to ensure a positive online learning environment.
The Do's and Dont's of Online Communication
A Word from one of our Deans
Advice from our Online Instructors