Sticky 8's Food Truck welcomed to Haywood County
New Food Truck welcomed to Haywood County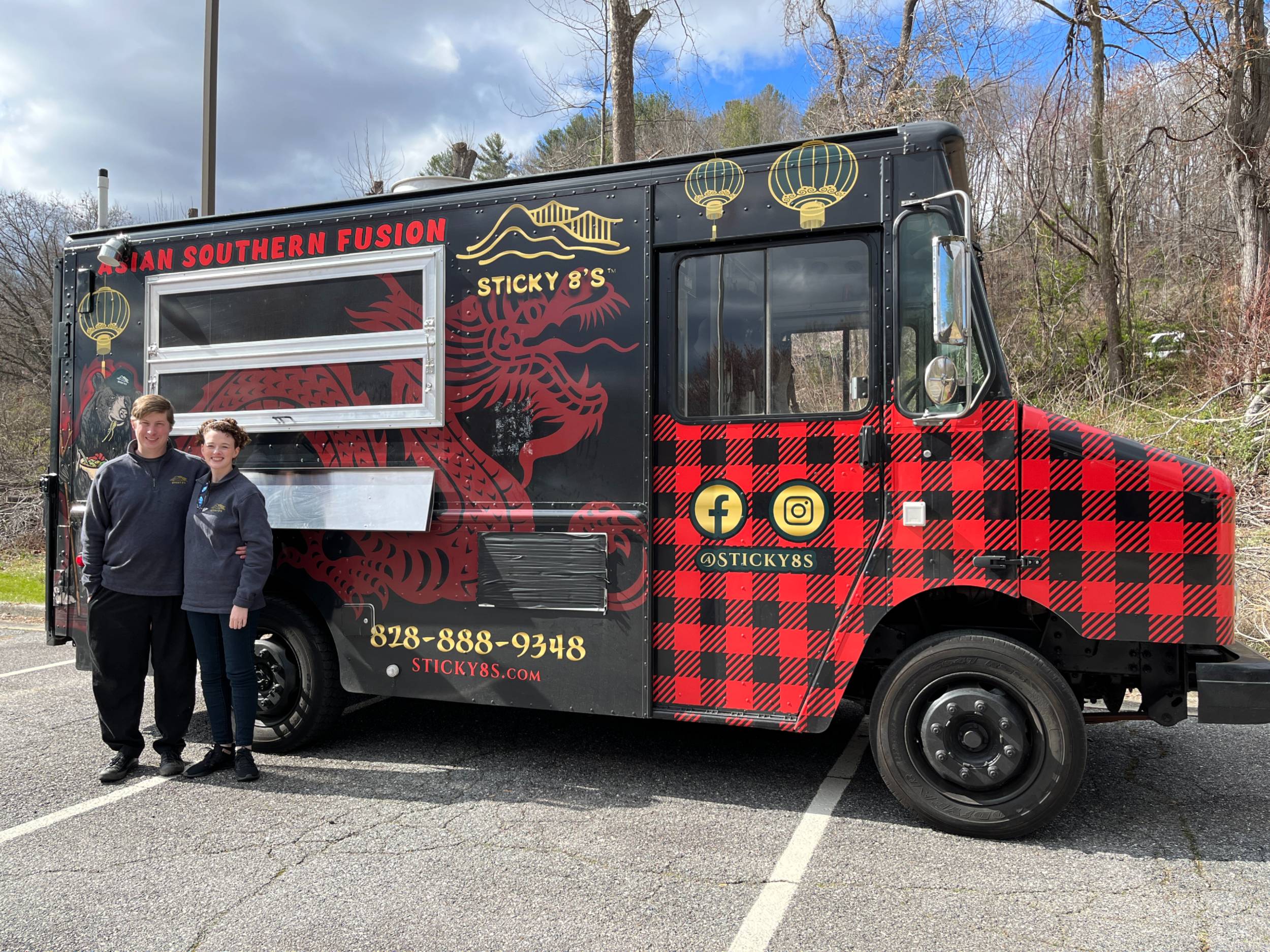 Food Trucks are becoming more and more popular and a new couple to Haywood County has brought a true gem to the area. Ashley and Jesse Gainey, self-proclaimed foodies, have followed their dream by opening Sticky 8s food truck in Western North Carolina.
This path didn't come too easy for the couple. It took some time for Chef Jesse and wife Ashley to find their true passion that led to the leap of faith to start their own business. Their business sense is truly a great combination with Ashley using her management and business background to focus on the business-side of food truck operations and Chef Jesse executing his culinary creativity to take his experience as a chef to a new level creating unique new recipes which now have a rave following.
They were drawn to Haywood like most new residents are – from past vacations to the area. It's easy to fall in love with the nature and friendliness of Haywood County. After holding their wedding in the area, they made the move to WNC to see where the future would take them!
Like many new businesses, starting a food truck business was not without a few speed bumps. From finding the right food truck within their budget to seeking funding, Ashley and Jesse worked with many local resources to the small business support they needed. After moving to their plan B with their initial food truck choice and some great work with Mountain BizWorks, the couple was able to exceed their original target to open in early 2023, officially launching Sticky 8s Food Truck in November 2022.
As part of their new business venture and the research needed, they partnered with Haywood Community College's Small Business Center. They worked with Ashley Swanger on items such as networking opportunities, taxes and financial resources, as well as structure and guidance sprinkled in with some tried and true Do's and Don'ts for new business owners.
"Ashley and Jesse are such a great example of watching Entrepreneurs find a way. They planned and adapted when things didn't go quite like they expected. They always looked for how to make it work. That forward focus and willingness to reach out to others for support has served them well. They are always looking for how to improve and know that success depends on the ability to not get stuck on one way to do things", shares Ashley Swanger, SBC Director.
Sticky 8s Southern Asian Fusion food brings the best of both worlds together with items like smoked pork belly sliders with DJ's pickles, Asian slaw and Korean barbeque sauce. They are inspired by their favorite venues in culinary hotspots like Charleston, Savannah, and Columbia who frequently swap out menu items to use the freshest ingredients. Chef Jesse isn't one for shortcuts. He explains that, it's easy for food preparation to include pre-made or pre-cut items but those types of items won't bring the elevated experience he wants his customers to have. "I learned from some of the best, and it's important to me to work from scratch with fresh ingredients. It really makes a difference you can taste."
This couple has already come a long way after opening their truck in November of 2022. They have been welcomed to the WNC Food Truck community and Ashley has honed in on one word for this experience – strategize. Ashley shared a recent experience, "We attended the We Speak Conference in Cherokee and one of our activities was to pick a verb that described our work. I picked strategize, because no matter what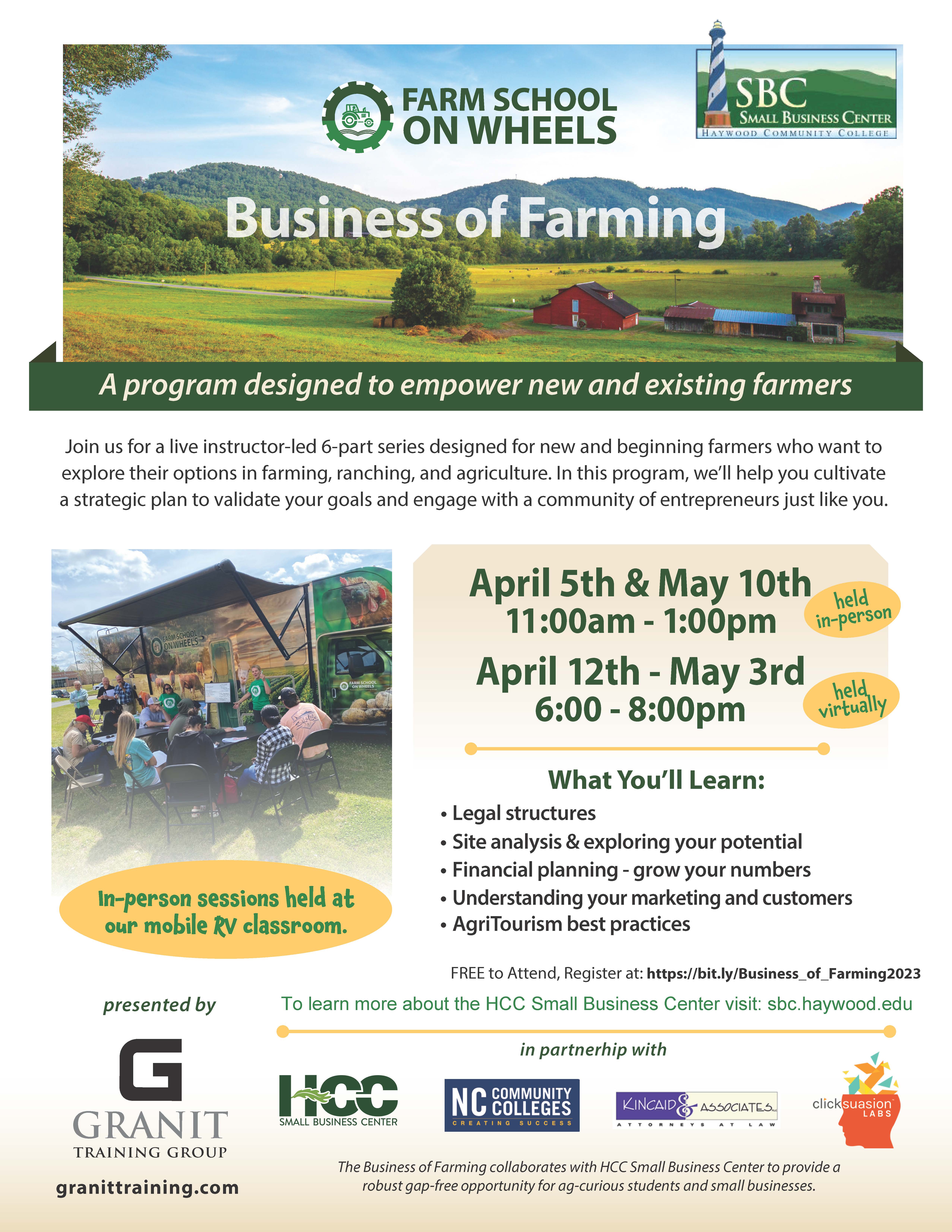 we are working on, we are always strategizing." Ashley and Jesse spend time strategizing not only their community partnerships but operating efficiencies and menu items as well.
They feel very lucky with the success they have seen in the past four months and can't thank their family, friends, and others in our community enough for their support and desire to help them point in the right direction to help make their dreams a reality.
Sticky 8's will be on site for lunch to help kick off HCC's Small Business Center Business of Farming Series on April 5th.
The HCC Small Business Center has partnered with Granit Training Group which runs the Farm School on Wheels to offer a 6-part Business of Farming Series. Farm School on Wheels fosters the greater North Carolina farming community through training, counseling, and consulting with farmers and agricultural leaders, and economic development teams.
April 5 is the kickoff session for this series for new and beginning farmers from 9 -11am.
This SBC event is free to attend and requires pre-registration. To learn more visit: https://bit.ly/Business_of_Farming2023 or call 828-627-4512.